HOW DO I IDENTIFY WHICH MERCEDES COMAND APS HEAD UNIT MY VEHICLE HAS?
NTG 6.0
COMAND APS NTG 6 (MBUX) This comand is used in the new sprinter W907, the new A-class W177 (and new CLA and GLA) and the new W247 B-class and the EQC. ThisCOMAND features Mercedes voice assistant with 3D visuals in the instrument cluster and infotainment system such as the maps and animations. This COMAND typically features dualdisplays for the instrument cluster and theinfotainment system. The MBUX system ispowered by Nvidia Parker 128 Chipset. A departure
from intel processors used in COMAND 5. MBUXalso features 4G LTE capabilities in some markets.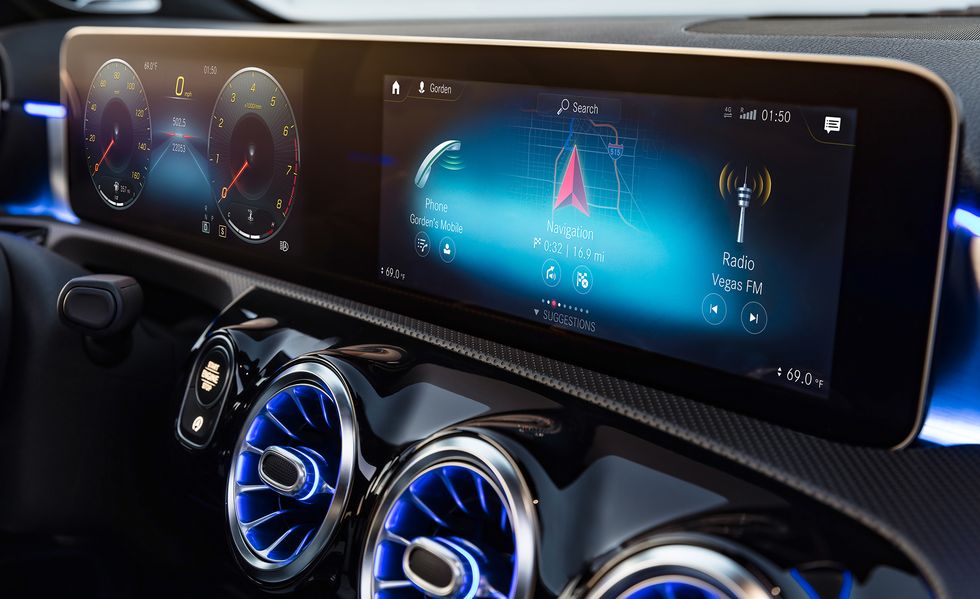 COMAND APS NTG 5
Mercedes-Benz NTG 5 COMAND (NTG5HU) isfound on several models including W205, V-Class,W222, GLC, etc. It has built-in Bluetooth calling,DVD drive, ability to playback DVD, CD, MP3.Build in navigation and even a built-in hard disk forstoringmusic files. Up to 40GB of internal storage.The monitor is 8.4″ LCD. Can be controlled by the touch panel on the central console. Can support iPod, TV tuner, rearview camera, enables DVD while driving. It requires an anti0theft code. There are three generations of NTG5, NTG5.1, NTG5.2 and NTG5.5. NTG5.1 has a keypad, whereas NTG5.2 / NTG5.5 does not. COMAND NTG5.1 has support for Apple Car Play and Android Auto (Early units did not have this support but it can be added). NTG5.2 is fitted in S, CL, C,GLC, AMG-GTS, X-Class and the new generation Vito. NTG5.1 is fitted to facelift A, B, CLA, GLA, W207-E, W212-E, CLS, GLE and GLS vehicles. NTG5.5 was fitted to the new W213-E class and is replacing NTG5.2 as vehicles are face-lifted. such as the Mercedes W222 S class and W463 G Class. NTG5*5 has Apple Car-Play and Android
Auto.
COMAND APS NTG 4.7 (2013>)
Comand 4.7 or 3rd generation of Comand NTG4.5 was installed in vehicles from June 2013 onwards, such as GLK350(2015). It now supports direct tethering of iPhone / iOS Devices / Android OS to support the internet function which was not previously possible with these devices. It also features internet radio plus slight changes to the route guidance.  The differences to NTG4.5 are new Mercedes Apps; CPU upgrading; 80G to 100G SATA; better Navigator figure performance,
which enable a more fluent system as a whole.
COMAND APS NTG 4.5 (2012-2015)
One of the most popular head units is the NTG 4.5. Installed on many models produced from 2012 to 2015. Fit on most model including W166 W204 W212 W207 W218 W172 W231 W246 W463. Has many features including an internal hard drive, DVD player, 7″ monitor with TFT resolution. USB and auxin. Plays CD, DVD, MP3 and WMA. SD card slot. Handsfree calling. Navigation which works on 2D or 3D. Voice control. Requires 25 digit anti-theft code.
 CARS WITH COMAND APS NTG 4.5:
• C-Class W204 C250 C300 C350 C63
• E Class W212 E350 E550 E63
• B-Class W246
• CLS-Class W218
• SL Class W231 SL550 SL63 SL65
• W166
• W176
• W246
• W463
• W207
• W218
COMAND APS NTG 4.0 (2008-2011)
COMAND APS NTG 4 (2008-2011) The NTG4 system is a reduced cost version of NTG3 technology. It was first introduced when the W204 CClass launched in 2007 and features a 5″ screen, much smaller than the higher resolution, bigger 8″ screen on the flagship W221. It is the first version of COMAND that supports the Mercedes Media Interface. Like NTG3, it stores maps on a hard disk and has a card reader for MP3 music. It is also built with a somewhat larger 6″ screen for other models such as the W212 and W218. Amongst other implementation differences are the fact that in the W204 version the screen electrically folds in and out whereas in other incarnations it is fixed.The Mercedes SLS has COMAND NTG4 too.
Unlike the NTG3 system, NTG4 did not support 7 character UK postcodes when first released (only 5 character postcodes), but some NTG4 units (e.g. those in the MY2010 W212 and up) have a firmware upgrade available from Mercedes dealers which does add 7 character UK postcodes. NTG4 is also used in Mercedes-Benz GLK-Class (X204). Mercedes COMAND NTG 4 supports NAVIGATION andhands-free calling. Installed in several 2008 through 2011 models such as the GLK, E and C Class. It also supports video playback and a parking camera. Enabling those features requires an interface.
 CARS WITH COMAND APS NTG 4.0:
• C-Class W204 C250 C300 C350 C63
• E Class W212 E350 E550 E63
• B-Class W246
• CLS-Class W218
• SL Class W231 SL550 SL63 SL65
• W166
• W176
• W246
• W463
• W207
• W218
2. By the interface
The majority of NBT systems have specific interfaces, so it's also worth checking out the look of the menu in comparison with other head units to identify the NBT version.
Contact us to confirm which BMW Idrive system do you have